Simms Taback 1932-2011
DECEMBER 29, 2011
Sad to note the passing of our friend Simms Taback, over Christmas, celebrated illustrator, children's book author and activist for artists' rights. He was a hero to a lot of us in the graphic arts. Here is a post from last January, which Simms saw and liked. In the year plus of grace that he had since deciding to stop immiserating treatment for pancreatic cancer, Simms got to travel, be with family and friends and hear what he meant to them.
At a recent opening of a show of his work in LA, he seemed in great spirits, basking in the reflected love of just some of the people he made a strong connection with in his life. And there were many of us.

Our thoughts are with them at this time. My reflections are reprinted below.

He is a kind of four letter man that we rarely see in our profession or any other: someone who is truly excellent at what he does, who is caring about the world, generous to his colleagues and is also a just a great guy. Usually someone can be some of these but not all. People who are brilliant artists have trouble reaching out to others. Some who are strong advocates for their cause can't reach the level of excellence that time and attention would yield. Simms cultivates all these sides. He gives us a lot to admire.

An excellent website SEE HERE designed by Jeff Seaver gives you a strong sense of his career and what his work is like. I am grateful to him and Simms for allowing me use some of the work posted.

He had helped found the Graphic Artists Guild, first as it merged with the Illustrators Guild to become the Graphic Artists Guild of NY. The Guild was growing and when I joined the board in '83. Till recently he was editor of the Pricing and Ethical Guidelines book, which has kept standards as high as possible in a slippery industry. Other issues he worked on were those of copyright protection, work-for-hire ethics. The idea of artist's right to original art became industry standard. In the encouragement of contracts written up by artists, we learned to get more of a grip on our relationships with publications. His time at the Guild was one of empowerment for artists. While the Guild is now not what it was, the ideas have taken hold and continue to maintain moral-suation we use with clients everyday. I learned and grew a lot in those years and Simms was a big reason for that.

As an author/artist he has won two Caldicott medals (very prestigious). His work is deceptively simple. But this kind of simplicity is derived from an eloquence we all strive for: nothing out of place or distracting. The story, the design, the color, the humor all blend seamlessly. The delight here is of seeing a piece by an artist in full charge of all the elements and gifting to you a wonderful world. Here are four examples plus a some animated film clips.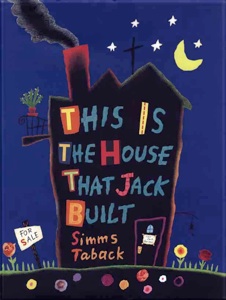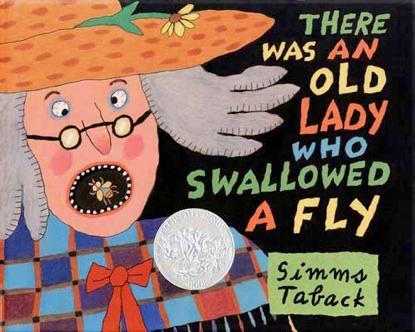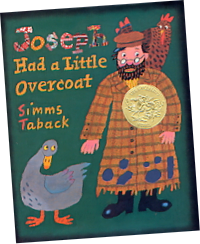 Here is Simms himself talking about The Was an Old Lady and how he got the idea for the die-cut solution.


None of this touches on the most important point about Simms; his mensch-hood. This is a person who believes that artists . . and all humanity . . . are sharing space and could, if they chose, to behave with respect to and for each other. In a competitive market this is a challenge. Fewer assignments means more bumping around for all of us. But the awareness necessary to undertand how we can live together in this world, makes a difference in what kind of place it is; that we are creators of the larger space as well as the smaller one.

Simms has done well . . . and done good for some 50 years. There is never a question he won't answer, never a problem you can't talk over with him. He has knowledge and spiritual support and is generous with both. And also can kvetch at you when you got it wrong. In my life I have met many wonderful people. I find them as teachers. The observational learning I got from Simms has stayed with me for almost 30 years. And nothing would please me more than to think that I got to pass some of it along myself. Here's to Simms. And thanks for the overcoat.

Here's a tribute to Simms at Tablet.com.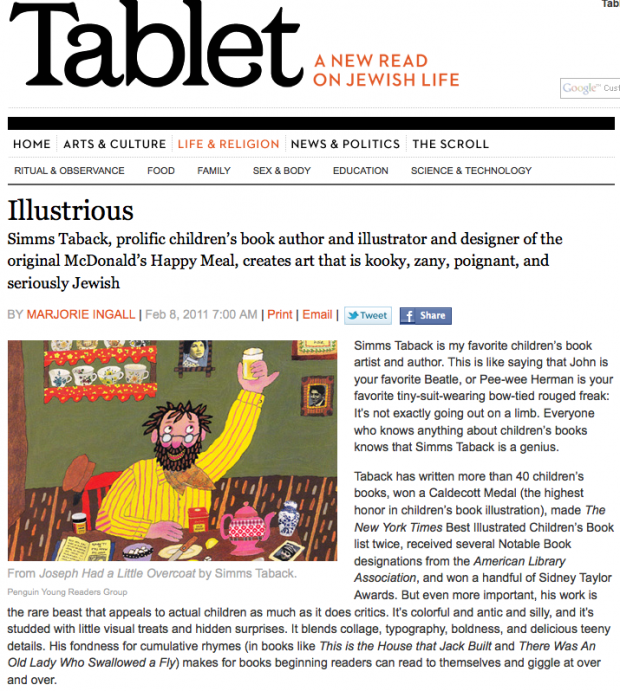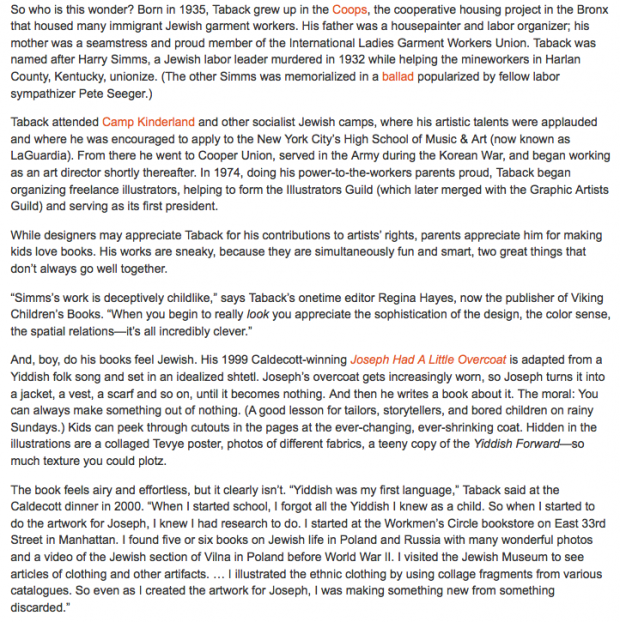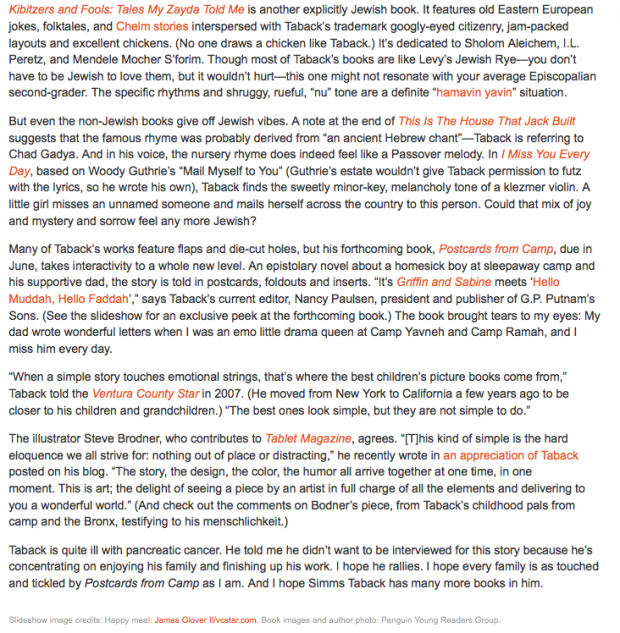 Here's Steven Heller's NYT Reprinted Obit:

Simms Taback, a children's book illustrator and author who won the Caldecott Medal in 2000 for his adaptation of the nonsensical Yiddish folktale "Joseph Had a Little Overcoat," died last Sunday at his home in Ventura, Calif. He was 79.

Joseph A. Garcia/Ventura County Star
Courtesy of the Estate of Simms Taback
The cause was pancreatic cancer, said his son, Jason.

Mr. Taback was one of a new breed of commercial illustrators who in the 1960s rejected realistic trends in favor of expressionistic and comic visual storytelling.

Known for a wry naïf style, he enjoyed using snappy colors and playful cut-and-paste imagery. His whimsical characterizations of human beings, barnyard animals and jungle beasts entertained audiences through tales both new and retold.

Yiddish was Mr. Taback's first language, so he took pleasure in adapting old Yiddish stories and song lyrics. His most successful, "Joseph Had a Little Overcoat," follows Joseph as he removes his garments until all that's left is a button. The story takes a quirky turn when Joseph decides to make a book about his coat. Throughout "Joseph," a menagerie of animals with human expressions watch his transformation. Visual and textual gags spice up the story, including a newspaper headline that states "Fiddler on Roof Falls Off Roof."

But "Joseph" was not entirely a flight of fancy. Mr. Taback spent time at the Jewish Museum to view period clothing and other artifacts and learned everything he could about shtetls in prewar Poland and Russia.

Born in the East Bronx on Feb. 13, 1932, Mr. Taback graduated from the Cooper Union and, after being discharged from the Army, worked as a graphic designer for Columbia Records and The New York Times, and later as a freelance advertising artist for Eastern Air Lines, American Express and other companies. Mr. Taback started a successful greeting card company, Cardtricks, in 1989, with his longtime friend Reynold Ruffins, a founder with Seymour Chwast and Milton Glaser of Push Pin Studios.

The paper novelties, including die-cuts, that Mr. Taback developed for cards inspired him to create the children's book "There Was an Old Lady Who Swallowed a Fly," which received a Caldecott Honor in 1998. Cut-out windows on many of the pages enabled readers to view the innards of the old lady's stomach as she swallowed the fly and consumed larger and sillier creatures throughout the book.

Mr. Taback taught illustration and design at the School of Visual Arts and Syracuse University. As president of the Graphic Artists Guild, he helped steer the organization toward advocacy on copyright issues.

His most recent book, published last year, is "Postcards From Camp," a warmly sardonic correspondence between a first-time camper and his father. "Simms Taback: Making Pictures for Children," a solo exhibition, opened at the Museum of Ventura County on Dec. 4 and continues until Feb. 12.

Besides his son, Jason, survivors include his wife, Gail; a daughter, Lisa Deane; a stepdaughter, Emily Kuenstler; two grandchildren; and three step-grandchildren.