The Road to Citizens United
JULY 10, 2012
I am honored to have participated in the current Citizens United package in Mother Jones written by the very dogged and pains-taking Andy Kroll. This issue lays out clearly and importantly the trajectory of campaign finace reform; abuses leading u
p to the series of regulations, now flattened by the disasterous Citizens United ruling by our highly (yes still) politicized Supreme Court. Many thanks to Tim Luddy for another great adventure with Mojo (in my silver anniversary with that mag!) You can read here:
http://www.motherjones.com/politics/2012/06/history-money-american-elections
Here we see the whole tarnished golden road. Starting with TR, I found myself in a kind of homage to Keppler, Opper and Nast. So the black line with soft tone look of Puck became the motif.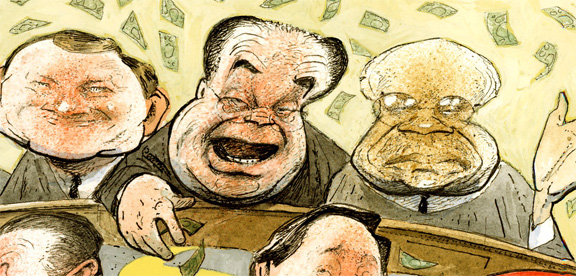 Nixon sold ambassadorships. Seems almost adorable now.
McCain was a reformer, a chisler, reformer, chisler again. Sigh, who effin' cares about him anymore?
Tom The Hammer DeLay, hitting the high-money mark.
Al Gore and his Buddhist connection. Nam Myoho Renge Dough.
Johnny Roberts, Mr. Constipated Sunshine, turning the big faucet.
The TR story is the metaphor. Morgan said, "He got on his knees for us."